Troubleshooting: Problems installing LabelWriter printers with USB 3 on Windows 7
Having trouble installing your LabelWriter?
It has been discovered that some LabelWriter printers manufactured after April 1, 2014 will not properly install on Windows 7 PCs when attached to a USB 3.0 port. DYMO has developed an update that will fix this problem on these printers.
If you are having installation problems with your Labelwriter and think it could be affected by this problem, then check your serial number against the numbers below. First, identify your product and region. Then if the serial number on your product is GREATER THAN the number listed you have an affected product (and if it isn't, you don't):
LabelWriter 450 (US)
1750110-2619789
LabelWriter 450 (Europe, Middle East, Africa)
1750111-2537300
LabelWriter 450 TURBO (US)
1750283-2504023
LabelWriter 450 TURBO (Europe, Middle East, Africa)
1750284-2133364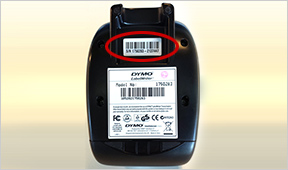 Where to find your serial number
The problem only affects LW450's and LW450 Turbos, not Twins, Duos or 4XL printers.
To fix an affected machine
Before you download the update, read these instructions to put your label printer into program mode.
Remove the labels from the label printer.
Disconnect the USB cable from your computer
Disconnect the power adapter.
Wait 10 seconds.
Press and hold the only button on the front of the printer while plugging in the power adapter.
Release the button. The LED status light on the front of the printer should be solid blue.
Connect the USB cable to your computer and click the download button below.
If you're still experiencing problems please contact the Dymo Helpdesk: helpdesk@dymo.com