Special Offer: Dymo LabelManager 280 Bundle Promotion
Dymo are offering a bundle with the LabelManager 280 and 4 Dymo D1 Tapes.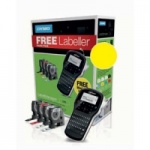 The bundle includes:
12mm x 7m D1 Label Black on White tape
12mm x 7m D1 Label White on Black tape
12mm x 7m D1 Label Black on Red tape
12mm x 7m D1 Label Black on Clear tape
The LM280 normally has an RRP of £51.45 (internet price around £40+vat) and the tapes have an RRP of £16.70/ea (internet £10 ex vat), so even at internet prices that's around £80 (ex vat) of stuff.
But the bundle is likely to sell for around £50 online when it comes out in the next few days, so that's quite a decent saving.
As with their 2014 promotions Dymo has again labelled this as a "Free labeller when buying labels" which makes sense if the tapes are selling for full RRP, but it doesn't quite add up at internet prices so better to think of it just as a promotional bundle.
This is a limited promotion rather than a production item, so when stocks run out that's it - unless they decide to run the promo again next year.