New Colours for Dymo Rhino Range, to meet various standards
Dymo have introduced a new range of coloured Vinyl tapes to their industrial/professional Dymo Rhino PRO range.
At first the colours may seem a bit odd (eg. brown & purple?) and some may question why the popular black on red has been replace with white on red. But it seems there is some sound reasoning behind the colour changes.
The new colour combinations have been created to meet the ANSI, ISO & OSHA standards which are now required in many facilities.
These include: ANSI Z535 (visual workplace), ISO 3864 (visual workplace), ANSI/ASME A13.1 (pipe marking), ISO 7010 (visual workplace) and ANSI 606-B (datacomms)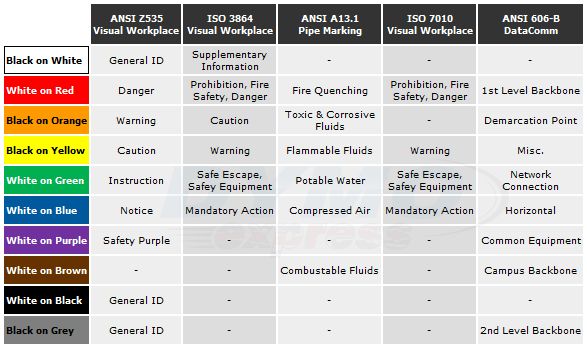 They are also compliant with the RoHS (Restriction of Hazardous Substances) and REACH (chemical substances impact on humans and environment) standards which are required in EU Countries.
The Heat Shrink Tubing can also be used for UL224 (important certification for commercial and electrical applications), SEA-AS-81531 (marking of electrical insulating materials), MIL-STD-202 (establishes uniform methods for testing and electrical component parts), and SAE-AMS-DTL 23053/5 Class 1 (HST requirements for mass transit, defence & aerospace).
Image Copyright 2012 Tao Technologies Ltd.