Dymo LabelWriter Wireless - Printing Labels
Printing Labels
You can design and print labels using DYMO Label software on your computer or the DYMO Connect app on your mobile device.
Printing Labels from a Computer
To print labels from a computer, you must install DYMO Label software and then add the network printer to your computer.
Download and install the latest version of DYMO Label software from support.dymo.com
Start DYMO Label software and do one of the following:

If this is the first DYMO label printer installed, click Yes when prompted by the software to add the label printer as a wireless printer.
If a DYMO label printer is already installed, choose Add Network Printer from the File menu.

Follow the instructions in the Add Network Printer utility. The LabelWriter Wireless printer should now be the selected printer in DYMO Label software.
Printing Labels from a Mobile Device
You can design and print labels to the LabelWriter Wireless printer from a mobile device using the DYMO Connect mobile app available on the Apple® App store or the Google Play™ store.
From your mobile device's app store, search for DYMO Connect or use the appropriate QR Code below.
Install the DYMO Connect app.
Tap to open the app and select the LabelWriter Wireless printer. Refer to Wireless Connection Issues if you have problems connecting to the printer.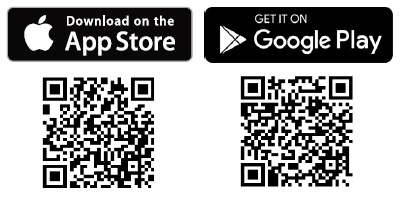 If you are having problems with your Dymo Labelwriter Wireless printer please go to www.dymo.com and contact Dymo Technical Support.