Dymo LabelWriter Wireless - Managing the Printerís Access Point
Managing the Printer's Access Point
The LabelWriter Wireless printer can be its own access point, sometimes referred to as a 'hotspot', allowing a direct wireless connection between the printer and your computer. In access point mode, you can wirelessly connect and print to the printer from your computer without connecting to an existing wireless network.
Out of the box, the printer's access point is turned on. However, after you connect the printer to a wireless network, access point mode is turned off. You can turn access point mode on and off through the LabelWriter Wireless Advanced Options within DYMO Label software.
To turn on the printer's access point
Connect the printer to your computer with a USB cable.
From within DYMO Label software, select the LabelWriter Wireless printer.
Click the icon next to the printer. The LabelWriter Wireless Advanced options dialog box appears.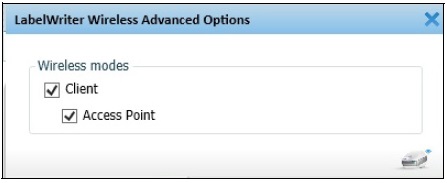 ​​
Select Access Point and click X to close the dialog box.
The printer is now in access point mode and can be accessed wirelessly from your computer.
To configure the printer's access point
Connect to the wireless network named DYMOLWWxxxxxx. This unique printer name can be found on the bottom of the printer. However, the name may have been changed during initial setup. Your computer has now dropped the connection to your wireless network and established a wireless connection to the printer.
In your web browser, enter the following URL: http://192.168.58.1or the url assigned during initial setup. The Web Configuration utility will open in your browser displaying the login page.
Log in to the LabelWriter Web Configuration utility using the following:

Username: admin
Password: admin (or a custom password that you have assigned)

From the menu, click IP Configuration>Access Point. The Access Point page displays.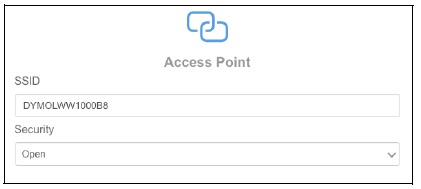 ​
Select the security method, enter the authentication details, and click Save.
If you are currently connected to the printer in access point mode, the connection will be lost.
Note: Configuring the printer's access point does not turn on the access point. You can only turn on the access point through DYMO Label Software.
If you are having problems with your Dymo Labelwriter Wireless printer please go to www.dymo.com and contact Dymo Technical Support.