Dymo LabelWriter Wireless - Getting to know your new label printer
Getting to know your new LabelWriter Wireless Printer
Your LabelWriter Wireless printer is a direct thermal printer and does not use ink or toner. Instead, the printer uses heat from a thermal print head to print on specially treated, heat-sensitive labels. Labels are the only supplies you will ever need to buy.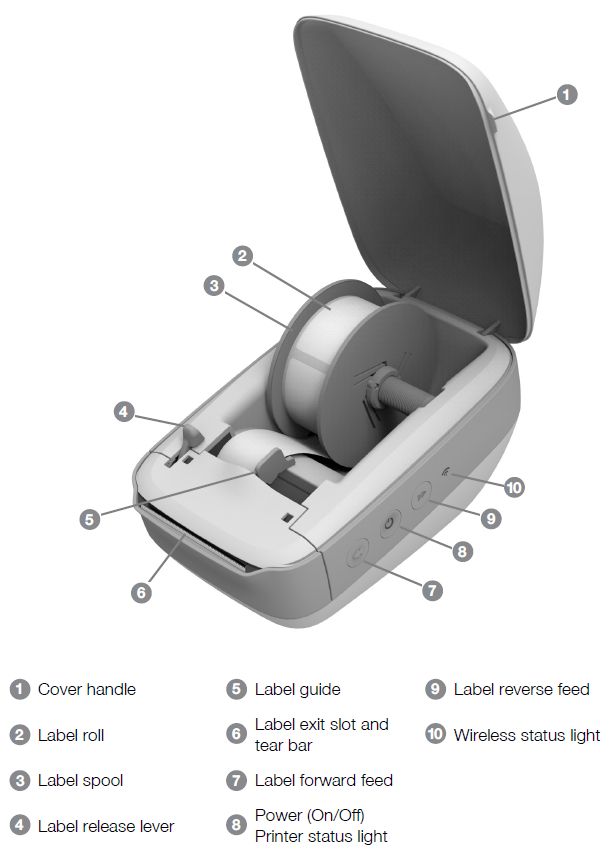 Power
The button turns the label printer power on and off. After five minutes of inactivity, the printer will enter power-saving mode and the power status light will glow.
Label Feed buttons
The label forward feed button on the side of the printer advances a single label. The label reverse feed button reverses the label out of the label exit slot and is used to remove labels from the printer when changing rolls.
Label Release Lever
The label release lever releases the pressure of the print head from the labels so that the labels can be easily removed from the label exit slot.
Label Guide
The label guide is important for narrower labels such as address labels and other specialty labels. The label guide helps keeps the labels aligned properly against the left edge of the label slot so the labels will feed properly.
Wireless Status Light
The wireless status light visually shows the current wireless state of the printer.

WPS Button
The Wi-Fi Protected Setup (WPS) button can be used to connect the printer to your WPS-enabled router. You have two minutes to press both the WPS button on your router and on the printer.
For information about whether your router supports WPS, refer to the documentation that came with your router.
RESET
Pressing the RESET button for longer than five seconds returns the printer to the factory default settings. This will delete any network or other settings you may have saved.
Short press (1-5 seconds)
Restarts the printer without deleting your settings.
Long press (more than 5 seconds)
Deletes all the printer settings and returns the printer to the default factory settings. The printer starts up in Access Point mode and the quick setup wizard automatically starts when you connect to the printer from your computer.