Thursday, 20 August 2015 | Tech Support
The new Rhino 6000 driver for Windows 10 can be downloaded from the drivers page here...
Wednesday, 5 August 2015 | Tech Support
Dymo release their latest drivers and software for the LabelWriter range, including Win 10 support.
Tuesday, 9 June 2015 | Tech Support
Using the Dymo Labelling Software you can do a "mail merge", which is where you create a template label then import a list of addresses* which are then printed out as a batch using the label template.
*You can also import other information, including barcode numbers, but for this lesson we'll use addresses.
Monday, 8 June 2015 | Dymo Sales
Q) Do the LetraTAG printers come with any tape?
A) Yes the LT100H comes with a 12mm wide white paper tape in the packaging.
Wednesday, 27 May 2015 | Dymo Sales
The following item has been discontinued: S0721000 / 53720 - Dymo 24mm White On Clear D1 Tape
Wednesday, 13 May 2015 | Tech Support
I just canít seem to get my font size to print bigger than 12. It says we should have 6 different font sizes and that 9mm tape settings should go up to at least 20 however this prints on 12. We need these for name badges so 12 is way to small.
Tuesday, 12 May 2015 | Tech Support
12th May 2015: We've been made aware of some customers having problems with cards issues by Barclays. Specifically, during the payment phase where the payment screen redirects to Barclays to perform the 3D authentication checks (VerifiedforVisa / Mastercard SecureCode) they get the following error...
Wednesday, 6 May 2015 | Tech Support
We have a RhinoPro 5000 and it seems to have locked up with S being the only font size that it will print with.
Monday, 27 April 2015 | Tech Support
This solution allowed an unsupported LW320 to be connected to a Windows 8 PC via wifi.
Hopefully the same solution should work with other non-supported Labelwriters, and possibly even Windows 7 as well.
Friday, 10 April 2015 | Dymo Sales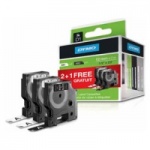 Dymo are offering a bundle with the LabelManager 280 and 4 Dymo D1 Tapes.